To be honest, this is the time of year I like the least. It's too cold a lot of days to go play outside with my son, so we're stuck inside a lot. Everything looks so bare and gray outside my windows and I start to feel so blah. Me and the house need a pick me up…  
So, I'm going to share with ya'll my favorite ways to freshen up my house while I wait on Spring to roll in. My biggest trick is to just round up all my decor (picture frames, vases, pillows, etc) and spread everything out on my dining room table.  I'll spend a little time shuffling things around and instantly it feels like a brand new room. 
 I have a few key things I like to go shop for though when I just need a little something new to look at in the house. Here are my go to's....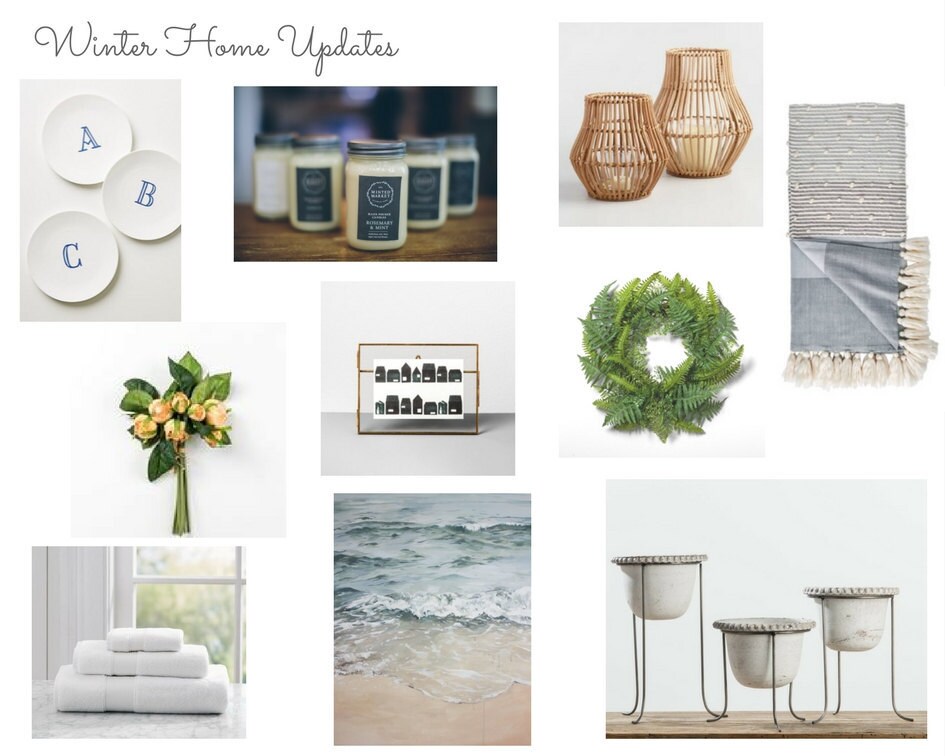 1. Monogram Plates - I love this simple way to update your dishes and that monogram is just so perfect. 
2. Minted Market Candles - Rosemary Mint is such a clean scent for this time of year.
3. Rattan Candleholders- Love the simplicity of these. 
4. Throw Blanket - This one has such a pretty detail on it and that color is such a gorgeous blue to take you into Spring. 
5. Fern Wreath - Don't forget to brighten up your front door with some greenery to welcome your loved ones. 
6. Frames - I love the aged brass of these frames and I snagged several at Target for my living room. 
7. Faux Floral Stems - if you're challenged in the art of growing things (like me) this is such an easy way to brighten up a space...no watering required. 
8. Bath Towels - These are a fave in my house. Replacing your worn out bath towels will always make your bathroom feel a little more luxurious. Classic white is my go to always. 
9. Art - I LOVE this artist and have been dying to own a piece ever since my friend introduced me to her work. She's having a sale on prints right now too!
10. Planters - I can grow a few easy plants in my house and I'm kind of choosey on my planters, these are simple and so pretty.